vol.9 Shonan Cruise
Toward the extraordinary sea world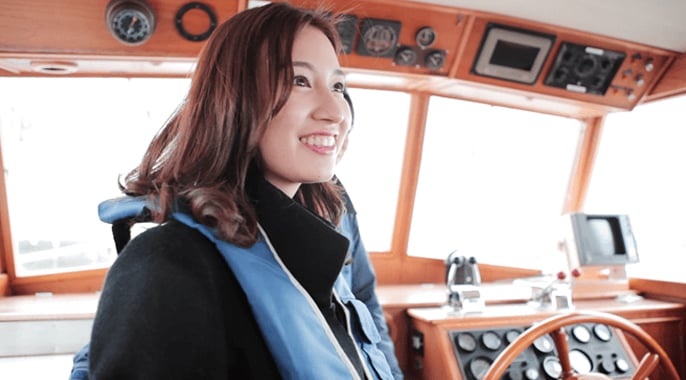 The interior decoration is just like home
Hello, this is Nana Shimoda! I experienced Shonan cruise by Riviera Zushi Marina today. Although I have embarked large ships during the cruising of firework display, traveling on a 10-meter-class ship is my first time. There are 2 courses including "Hayama course" around the land where yacht originated and the tourist attraction "Enoshima course", and the Hayama course will be introduced today. The ship has a cute country-style design of wood color. This is a 2-story ship and the first story has an atmosphere of home. There are sofa, table and even a kitchen. You can also find the bedroom, shower room and even a toilet when proceeding inside. You can live comfortably just in the ship!
A surprising captain debut!!
Set off! The wind blows straightly at you in a high speed. But the view of Hayama's townscape from the sightseeing deck on the second floor is new to me. Then, it is surprising that the experience of the captain is also available during this Shonan cruising. It is my first time of holding the handle of ship, and when I steer the wheel to the right end, it is strange that nothing happened. When I began to feel uneasy since I might have failed, the ship began to turn after 3 seconds. The operation of a ship is different from that of cars, and its handle reaction is slow to appear. It is difficult to get the hang, but I still feel safe since there little obstacle in the sea (laughs). When my view is broadened, I begin to feel that I can go anywhere toward the horizon. When I am going forward steadily feeling that I can control the sea, a group of yacht exist in the vision. Hayama is truly the place where yacht originated.
Superb view point with 3 attractions lined
Finally I reached the turning point, where the superb scenic spot of Yujiro Lighthouse and the red torii of Morito Shrine came into sight in a line. I didn't expect the day would come when I have the chance to look this scenery from the nearby instead of overlooking it from the distant coast as I used to, and it is … overwhelming! Unfortunately, it was cloudy that day, and it was said that the view of Mt. Fuji would also be added in in a sunny day. Also, a sunset cruise would also be wonderful at the twilight time of evening. A special opening feeling that cannot be usually tasted arose. By the way, you are able to obtain a first-grade vessel license within 4 days in Riviera Resort! Looking forward to summer cruising, it is also good to obtain it from now ~ ♪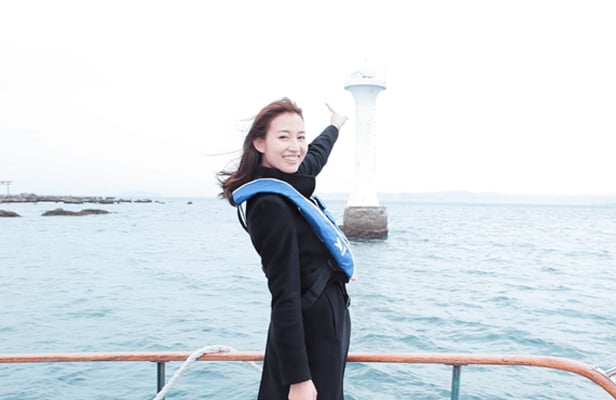 Zushi

Shonan Cruise
| | |
| --- | --- |
| Address | Kanagawa prefecture, Kotsubo 5-23-9 |