vol.7 Snorkeling
Come to the marine world slowly and leisurely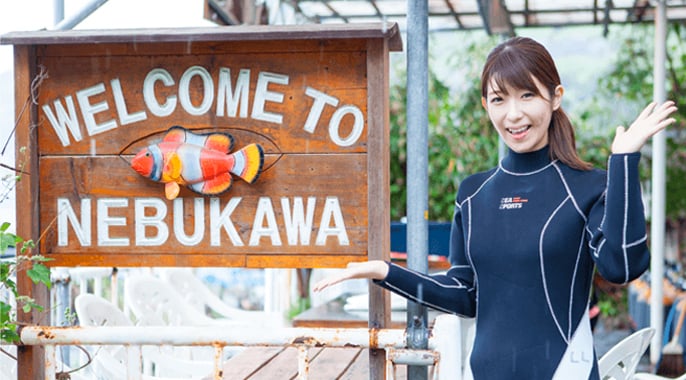 Easy snorkeling
Hello, this is Remi Odawara. I will serve as the navigator since now! Thank you in advance. The memorable first-time was carried out in Nebukawa Diving Center. You can experience both snorkeling and diving in this facility, but I chose snorkeling only as a beginner. Snorkeling means to wear a snorkel and lie on the water surface while swimming slowly and observing the underwater world. Personal belongings only include swimsuit and bath towel! Since necessary tools for snorkeling can all be rented, please feel free to enjoy snorkeling.
Not cold thanks to the wetsuit
Now wear the wetsuit, be triumphant and go to the sea! But before that, it was my first time of full-fledged snorkeling … So I listened to the lecture of Okada instructor carefully, and headed to the sea with peace of mind. I though the seawater in September would be a little colder, but I was not cold at all while entering the sea with my wetsuit on. I put on the fins after entering the sea and got used to the sea little by little. Since wetsuit is buoyant, my body can float naturally and I could go adrift in peace.
Relaxed and leisurely reduce my stress
When I swam along the rope a little, the depth of water soon became 5m. I listened to the lecture of Mr. Okada while holding a float at first, but soon I became able to swim at my own pace. Since I felt safe with the instructor beside me, I began to swim smoothly. When I became familiar with swimming, I also found lots of marine creatures! When the horde of beautiful fish and small fish swam in the nearby, I was healed so much. The snorkeling lasted for about 30 minutes, but I was not tired due to swimming leisurely without much difficulty, and it was so pleasant and fun!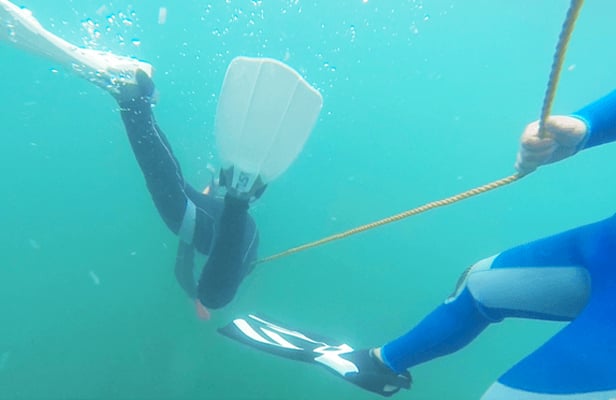 Odawara City

Snorkeling
| | |
| --- | --- |
| Address | Kanagawa Prefecture Odawara City,Nebukawa 161 |