vol.6 Scuba Diving
Toward the extraordinary sea world
First challenge of scuba diving
Hello, this is Remi Odawara. This time, it will still be carried out in Nebukawa Diving Center like the last time. Here, the experience of snorkeling and scuba diving is available. Since I have experienced snorkeling the last time, I will challenge scuba diving this time. The diver carried a bottle of air during scuba diving. Long-time diving becomes possible since it is possible to breathe using the bottle underwater. This time, the personal belongings are still a swimsuit and bath towel! You can feel free to enjoy scuba diving since the rest can all be rented.
Welcome! Carrying the cylinder to challenge the sea
Once again, I carefully listened to the lecture of the instructor Okada before going to the sea. I reconfirmed the way of equalizing ear pressure heard on land, removed the air in life jacket and dived in little by little by using the rope. But I could not equalize the ear pressure properly at first and went up to the surface once, and then I challenged again and reached the depth of 5m! The emphasis for first-time scuba diving is that "Keep calm and breathe, and equalize the ear pressure little by little! " I was able to actually understand this tip said by Mr. Okada.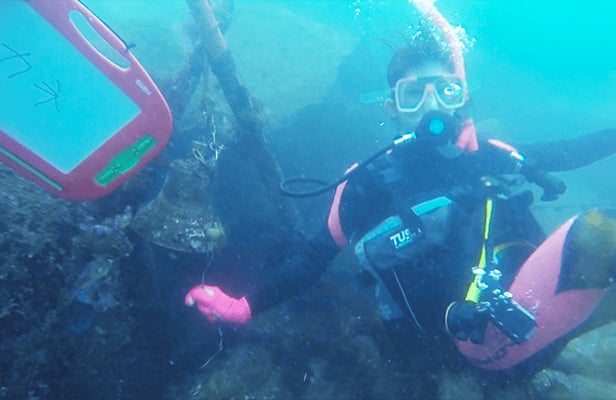 Feeling like a Mermaid
The unprecedented floating feeling and joy of being able to breathe underwater were impressive. Mr. Okada told me with a drawing board about the colorful marine creatures and interesting creatures that could not be encountered during snorkeling. It was so impressive to see so many marine creatures that I didn't know before. I felt just like a Mermaid while being surrounded by so many marine creatures. No Somehow, I even felt that fishes were also swimming together with me. The diving lasted for about 30 minutes, but the healing and impressive sea world underwater ended as if just in a blink of time.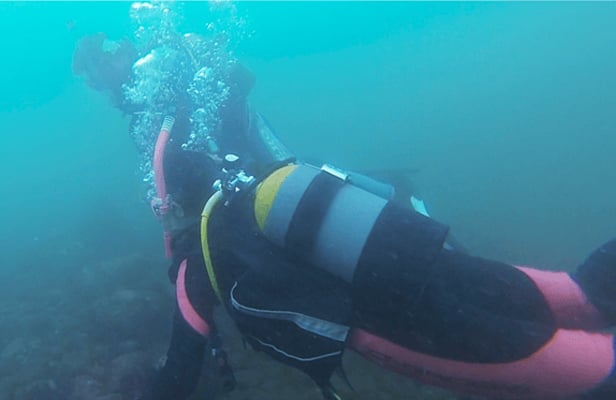 Odawara

Nebukawa Diving Centre
| | |
| --- | --- |
| Address | Kanagawa Prefecture Odawara City,Nebukawa 161 |
| TEL | 0465-42-9246 |
| Business Hour | 8:00~17:00 |
| Price | Detail |