vol.5 Beach Yoga
Both the mind and body become liberating and relaxing
One week spent in yoga on the beach of Ishiki, Hayama
Hello, this is Remi Odawara. I was able to experience Beach Yoga in Hayama's new port lately! I was worried about the shaking of yacht before my first-time experience, and got nervous before the riding. However, the inside of yacht was larger than what I thought from its appearance, and it put me at ease. After we were shown around the inside of the yacht which was quite spacious for 6 adults, we departed toward the sea of Shonan with Mr. Kishina, captain of this yacht.
Location and posture able to become one with the nature
The Ashtanga yoga taught this time was carried out by making compulsory postures in order while paying attention to the way of respiration. According to the voice of Ken and movements of people around, these postures transformed one after another in a relaxed manner. Yoga carried out in the open air on the sandy beach of Ishiki, Hayama made me feel pleasant and becoming one with the nature. Besides Ashtanga yoga, there was also an original yoga with 2 people cooperating together to decide the posture. By helping each other stretch the body parts that cannot be reached on yourself; we enjoyed this yoga and took a posture with smiles at last!
The unique point of Mr. Ken Harakuma!
After the yoga, we continued the recreation proposed by Mr. Ken! This time, all the participants joined a game called "octopus and octopus pot". During this game, adults first met laughed loud and ran, and it became so exiting! As if people had returned to their childhood, they giggled, laughed and became so excited that they even forgot the time. When the lesson ended, all the participants were dismissed under an atmosphere that was more cheerful. We should thank the lesson of Mr. Ken for this. My worry was also eliminated thanks to this very fun beach yoga!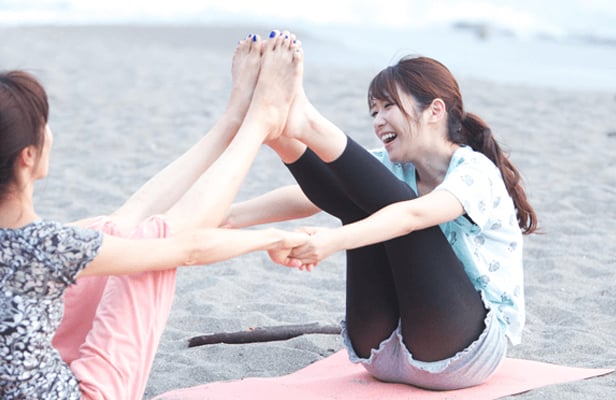 Hayama

one color coast
| | |
| --- | --- |
| Address | Kanagawa Prefecture,Miura District,Hayamamachicho one color coast |