vol.3 SUP
Standing up and rowing, my first challenge to the surfing born in Hawaii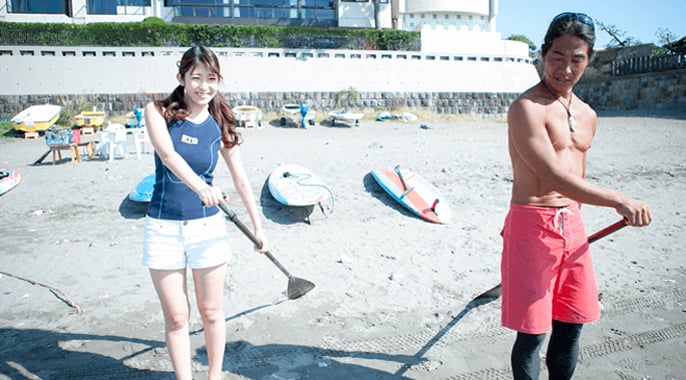 Get to know the official name of SUP for the first time!
Hello, this is Remi Odawara. I experienced SUP at Morito coast in Hayama lately. SUP stands for "Stand up paddle surfing", and this is a marine sport born in Hawaii during which a person stands on a surfboard with strong buoyancy and row with paddles on the surface. With poor motor reflexes…I successfully stood on the surfboard for the first time feeling very nervous. However, the instructor of STONES, Umezawa said that ordinary women like me could make fast progress! After hearing what he said, my nervous feeling turned to excitement.
The most important thing is to relax
Before entering the sea, the instructor Umezawa taught me the moves carefully on the beach. Since he explained it in a way easy to understand, my confidence increased more and more even as a beginner. I was told that the moves were very simple and the emphasis was staying relaxed and going with the sea without tension! When putting on force with tension, I would lose my balance and unable to move forward. While keeping in mind what I was taught, I headed to the sea!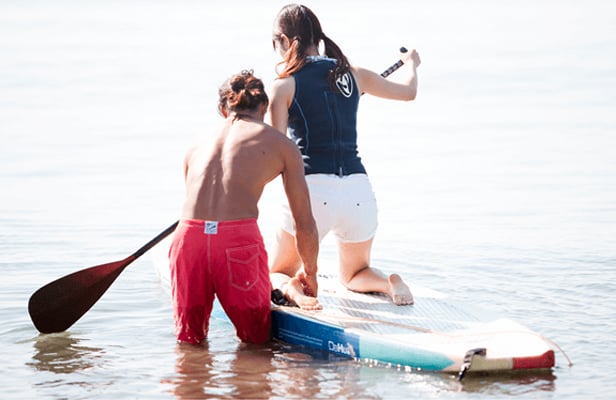 Strolling freely on the sea
First, I paddled on the sea while sitting down. Since there was not wave on the Morito coast that day, I was able to proceed without difficulty. Once I got used to it, I tried to stand up. When I tried to stand up with tension … "What? I'm standing!" it was unexpectedly easy to stand up if you were relaxed, just like Mr. Umezawa said. Even when the surfboard was wobbling, I was told that it was important to enjoy this feeling of sway. Now I could paddle a little far away. Since I was able to stroll on the sea freely in the breeze, my mind also became relaxed and opened! It was such an enjoyment. This is a marine sport that can be enjoyed by people of all ages both men and women even if they are not good at sports like me, so please come to challenge by all means!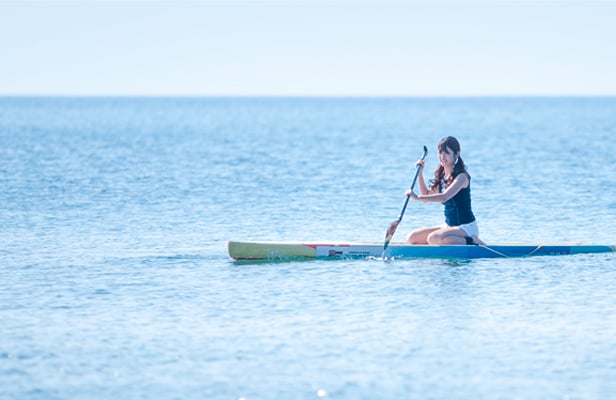 Hiratsuka

Shonan Bellmare Hiratsuka Beach Park
| | |
| --- | --- |
| Address | Kanagawa Prefecture Hiratsuka-shi Takahataidai 33-1 |
| TEL | 0463-23-4781 |
| Business hours | Apri~September |
| Holiday | October~March |
| Price | Some facilities are charged. Click here for details |