vol.1 Shonan Bellmare Hiratsuka Beach Park
vol.1 Shonan Bellmare Hiratsuka Beach Park
For sports played on the beach, come to Shonan!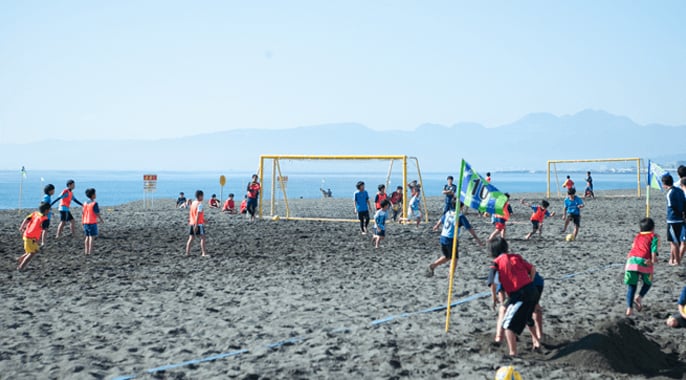 Holy Land of Beach Volleyball
I went to "Shonan Bellmare Hiratsuka Beach Park" lately. This is an outdoor multi-purpose facility established in 1990. There are many beach volleyball courts built along the sandy beach, and it is even called the "Holy Land of Beach Volleyball" since many famous players are getting trained and large tournaments are held here. Many other beach sports such as beach soccer and beach rugby can also be enjoyed here! There are also basketball courts and walking trails here in addition to the sandy beach. It was sunny and a beach soccer game was also carried out that day, so a lot of people crowded there!
The sandy beach of Shonan that can be played all year round
Since the ball and goal net are free to lend in the beach center, anyone can feel free to enjoy the beach sports. And suddenly, I was decided to challenge the beach volleyball! Since a staff here in the beach center I introduced played beach volleyball in the past, I got the chance of one-to-one Spartan training (laugh). As a result, I became able to serve in a short time! Since my feet fell into the sandy beach when compared with the gym, I was dripping with sweat despite of small momentum. By the way, although beach sports give us an image of summer, the Beach Park is also open during winter! It is also recommended in February and March if the wind is not strong, as the sunshine is warm and you can choose the court you like ♪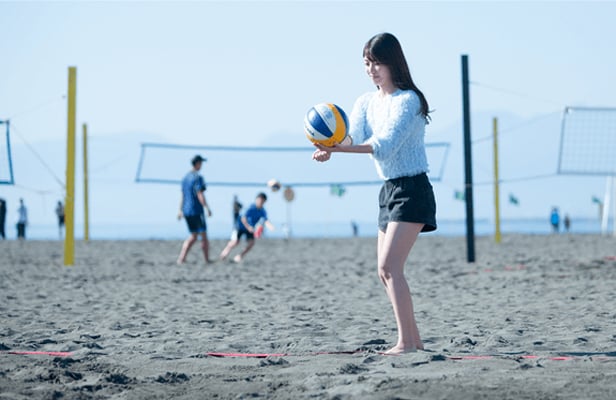 After the dripping sweat!
After enjoying the beach volleyball, welcome to the beach bar SUCCA inside the beach center. There are many carefully selected menu options and its appearance is also fashionable. The alcohol menu is also rich and enhanced! One drink after a good sweat during the sports is exceptional! I restrained from alcohol this time since I was still on the job, and had the soft cream recommended in SUCCA. This soft cream was made from the milk produced by the local Moriyama Dairy, and it was so delicious due to its deep fragrance of milk and moderate sweetness! It is a matter of course if you are tired after sports, but it is an also recommended to have a rest in the beach bar SUCCA even after a walk.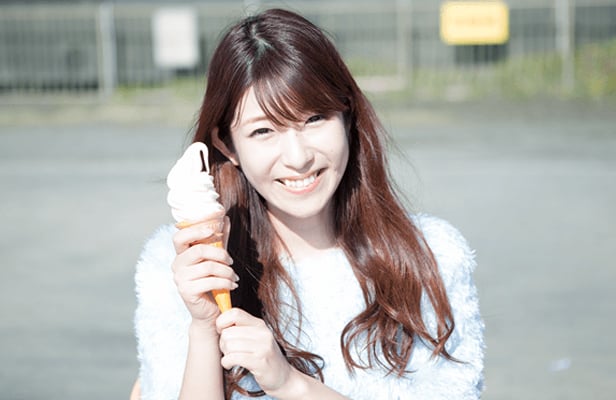 Hiratsuka

Shonan Bellmare Hiratsuka Beach Park
| | |
| --- | --- |
| Address | Kanagawa Prefecture Hiratsuka-shi Takahataidai 33-1 |
| TEL | 0463-23-4781 |
| Business hours | Apri~September |
| Holiday | October~March |
| Price | Some facilities are charged. Click here for details |