Did you know that you can enjoy a walk on the sea by taking a pleasure boat on the SHONAN sea?
A short trip out on the sea is ideal for those who want to enjoy the sea more than just looking at it from the beach.
This time, we will introduce SHONAN's pleasure boats that can be enjoyed by both adults and children.
Why don't you take a break from your daily life and enjoy the ocean view as far as you can while feeling the refreshing breeze and refresh your mood?
Explore Enoshima on the
"Bentenmaru"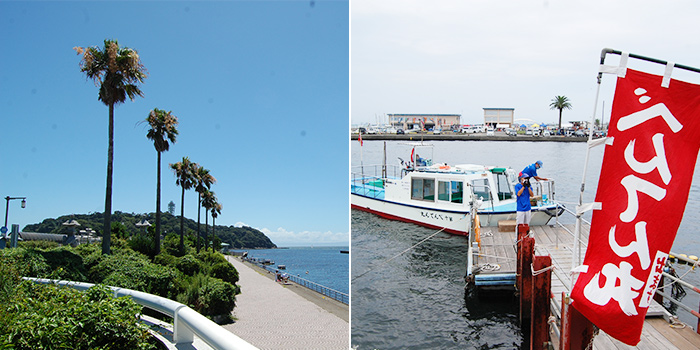 Enoshima's "Benten Maru" is a pleasure boat that connects the Benten Bridge at the entrance of Enoshima to Chigogafuchi near Enoshima Iwaya. You can see the natural scenery of Enoshima while enjoying a sea cruise, and even Mt. Fuji on a sunny day.
Inside the ship, there are open bench seats without a roof and seats with a roof and windows. There are life jackets available for rent when boarding, so both adults and children can enjoy a sea trip without worry.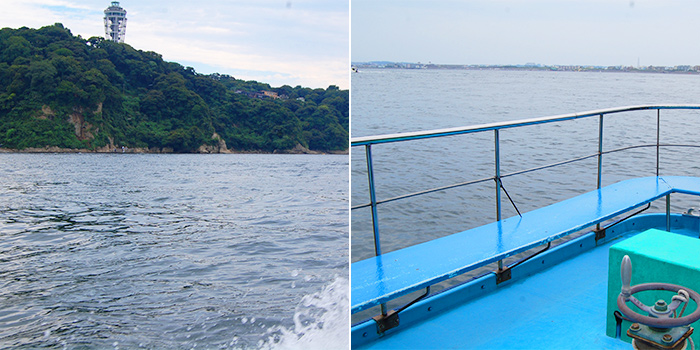 If you take a walk around Enoshima, it takes about 40 minutes to go up and down the stairs from the Benten Bridge at the entrance of Enoshima to the Iwaya Cave, but if you board the Benten Maru, you will arrive at the Iwaya Cave area in about 6 minutes while enjoying the scenery from the sea. If you are worried about walking back and forth, we recommend taking the Bentenmaru to Chigogafuchi and walking back to Benten Bridge.
arrive at If you are worried about walking back and forth, we recommend taking the Bentenmaru to Chigogafuchi and walking back to Bentenbashi.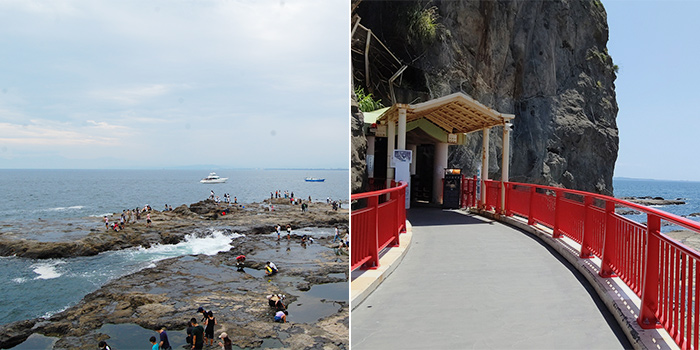 When you arrive at Chigogafuchi, you can see the powerful cliffs of Enoshima and the whitecaps crashing from the sea up close. After a short walk, there is a bright red Iwaya Bridge, and after crossing the bridge, you will arrive at Iwaya Cave.

The sea cave Iwaya is said to have been the place of training for Kobo Daishi and Nichiren, and has been revered as the birthplace of Enoshima faith. The atmosphere of stone statues and rock walls illuminated by candle flame invites you to a mysterious world.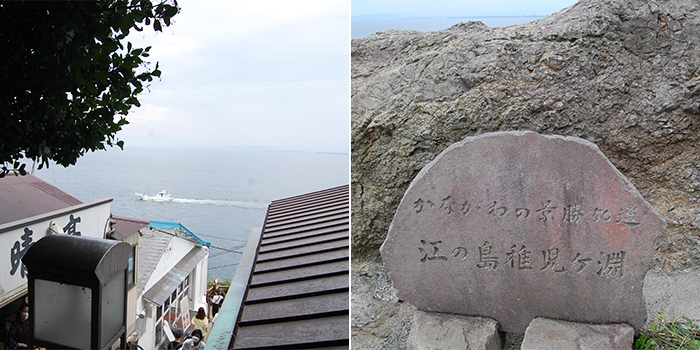 For taking a walk around Enoshima from here, you can enjoy the natural scenery and visit shrines
while walking up and down the stairs. Let's take a walk while enjoying the scenery and feeling the sea breeze. Don't forget to take photos for your travel memory!
Oiwayado-dori is a historic shopping street lined with restaurants and souvenir shops, where you can have lunch or take a break in a calm atmosphere. You can enjoy the taste of a long-established store, such as fresh seafood from Enoshima and seasonal sweets.
From the spot called "Futatsuyama" on the way, you can see the cliffs of Enoshima and the sea of SHONAN ahead. This is the constricted part of Enoshima, which is actually shaped like a gourd.
Soon you will arrive at the entrance of Samuel Cocking Garden and Enoshima Sea Candle. Samuel Cocking Garden is a botanical garden that blends Japanese and Western styles with a tropical atmosphere, where you can appreciate various flowers and plants throughout the four seasons.

It is also recommended to climb Enoshima Sea Candle, an observatory lighthouse that is popular as a symbol of Shonan, and look at Mt. Fuji and the sunset while feeling the sea breeze all over your body. There are various shops in the surrounding area offering snacks and more.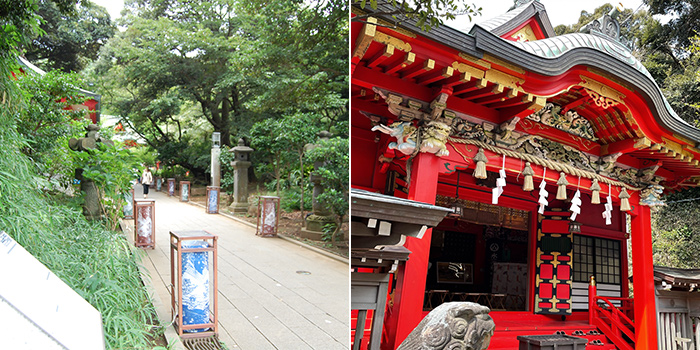 The Enoshima walk will be downhill from here. Continue walking to Enoshima Shrine (Nakatsumiya) and Yasaka Shrine. After turning around the Zuishinmon gate and vermilion torii gate, you will proceed to the bustling Benzaiten Nakamise street.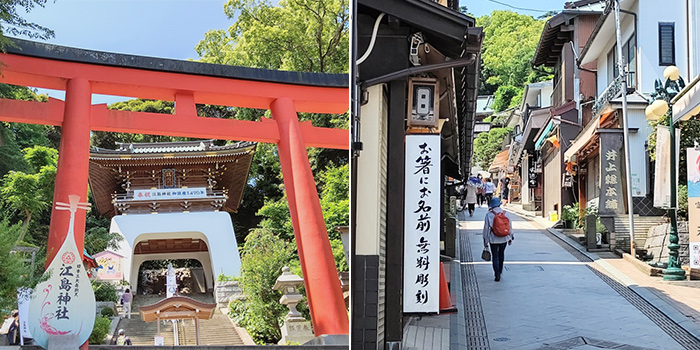 There are many restaurants in the area where you can enjoy fresh seafood, so it is recommended for those who want to fully enjoy Enoshima. There are also sweets shops and souvenir shops, selling foods and goods unique to Enoshima, so don't miss it!
After passing through the bronze torii, you will return to Benten bridge where you boarded the Bentenmaru.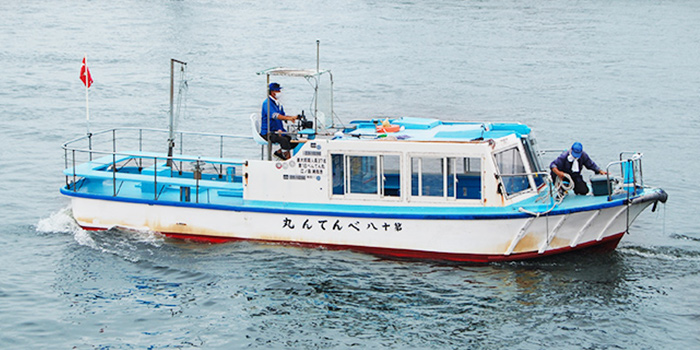 How was it? This time, we introduced a plan to take a pleasure boat to Chigogafuchi, take a walk, and return to Bentenbashi Bridge. You can also board the Bentenmaru from Chigogafuchi, so you can use it on your way back. Please use the service that matches your style. You will surely be able to enjoy a sea trip that is a bit different from your daily life.

Click here for details about "Bentenmaru"
https://feelshonan.jp/en/sightseeing/1028

Click here for sightseeing area information around Enoshima
https://feelshonan.jp/en/sightseeing/?ar=fujisawa
Other, sightseeing boats in the SHONAN area