Did you know that a variety of lifesaving activities take place in the oceans of SHONAN?
Not only at the beach in summer, but also throughout the year, members of each lifesaving club are involved in various activities together with local communities and organizations.
In this issue, we would like to introduce you to the SURF90 Lifesaving Club, which is active in Kamakura, Chigasaki, and Fujisawa.
If you are interested in the club's efforts, rescue skills, knowledge, and community activities, why not join them and become a member of the lifesaving club?

*The list is in alphabetical order.
SURF90 Kamakura Lifesaving Club
SURF90 Kamakura Lifesaving Club is a volunteer group that conducts lifesaving activities at Shichirigahama beach in Kamakura City. They aim to prevent accidents, improve safety, and help people acquire lifesaving knowledge and skills.

Shichirigahama Beach, which overlooks Inamuragasaki to the east and Enoshima to the west, is close to Enoden Shichirigahama Station and has a large parking lot. During the summer season, the number of surfers increases, and not only local people but also people from outside the area flock to enjoy the beach and the water.

For this reason, the most important activity is the beach patrol, in other words, the lifesaving activity held every Sunday during the summer months (July and August). The beginning of their operation was the Sagamiwan Urban Resort Festival held in 1990 that also went by the name SURF90. Since the establishment, they have been conducting their activities by targeting beaches that are not suitable for swimming or bathing but are used by many people and thus require safety management.

In addition, regardless of the season, they train to improve their physical strength and rescue skills. Furthermore, they serve as lifeguards for surfing and triathlon competitions and host Japanese Red Cross water safety training sessions to raise awareness of water safety.
We are looking for members!
We are currently working with members from a variety of occupations, backgrounds, and areas. What we all have in common is our love for the ocean. Japan is surrounded by the sea, so why not learn how to protect ourselves from the dangers of the waterfront first, and then use our skills and knowledge to reach out to others? We are always looking for new members! If you are interested, feel free to contact us!
SURF90 Kamakura Lifesaving Club
For more information, please visit: http://surf90kamakura.jp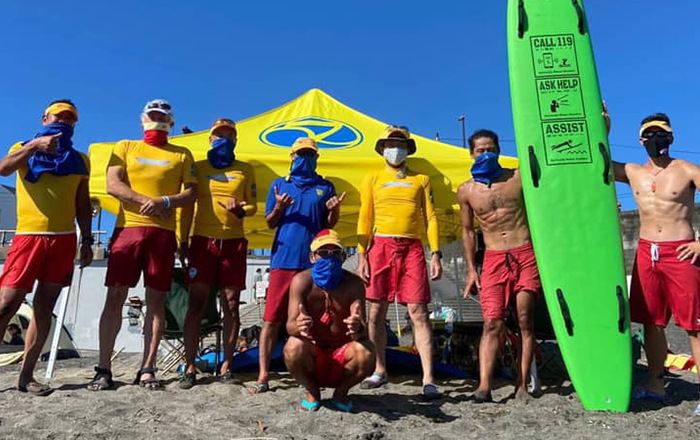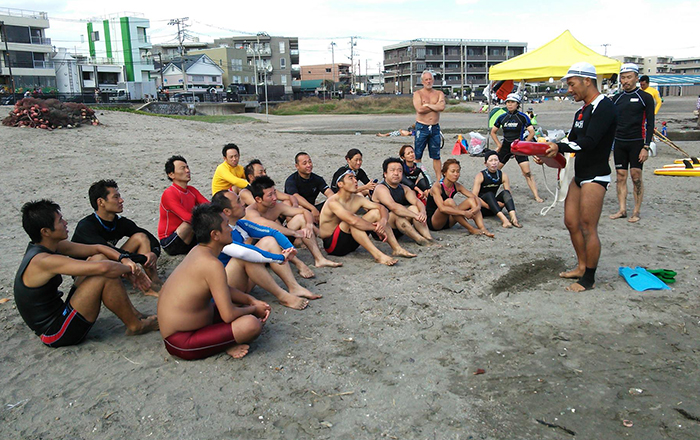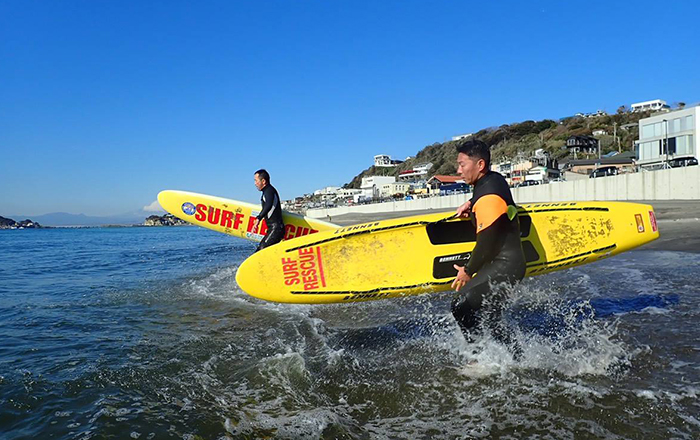 SURF90 Chigasaki Lifesaving Club
SURF90 Chigasaki Lifesaving Club aims to create an environment where all visitors to Chigasaki Headland Beach can safely enjoy the ocean by conducting beach patrols and volunteer rescue and relief activities in case of accidents.

The group has been active in Chigasaki since 1993 and has been involved in activities that unite with the local community. These include training lifesavers, raising awareness of lifesaving activities by holding junior lifesaving classes, contributing to the local community by running first aid/rescue workshops, and even lending wheelchairs specially designed for the beach.
The members range in age from junior and senior high school students to working people and the silver generation. After a training period from April to June, the members, mainly working adults, participate in surveillance activities around Chigasaki Headland Beach during the priority period from July to August. From September onward, the club doesn't only train but also patrols and conducts rescue and relief monitoring activities when typhoons approach.

The club aims to be rooted in the local community, and with the support and cooperation of the government and many local individuals and organizations, the club has been operating to improve the safe use and beautification of the ocean.
They have been able to contribute to society by improving their knowledge and skills through activities that have a real impact when saving human lives, and most importantly, they have established a firm network of like-minded people who love and care for the ocean. These are the main motivations for the members to continue their activities.
We are looking for members and corporate sponsors!
We are currently looking for members who are willing to work with us! As long as you are motivated, no experience is necessary. Let's spend a hot summer together! We are also looking for individuals and organizations that can support our activities. We are grateful for any support we can get!
SURF90 Chigasaki Lifesaving Club
For more information, please visit: http://surf90.jp/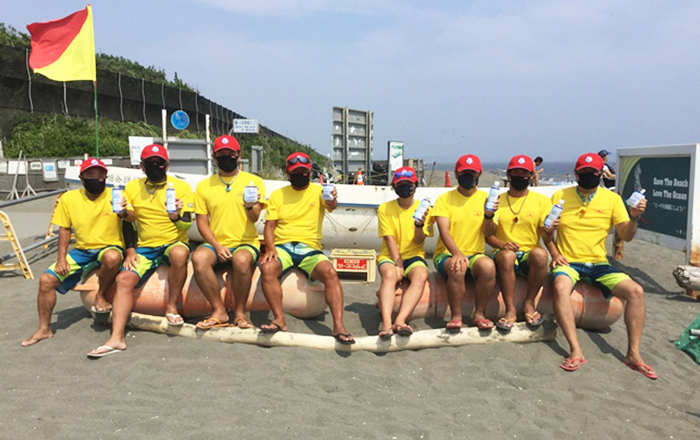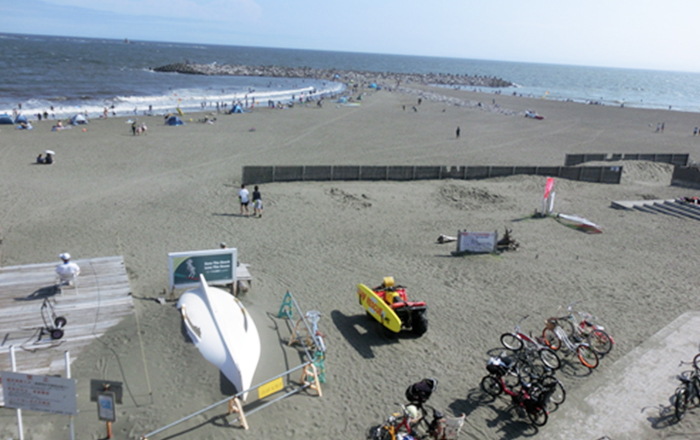 SURF90 Fujisawa Lifesaving Club (NPO)
The SURF90 Fujisawa Lifesaving Club has been active at Kugenuma Beach in Fujisawa City since 1990. The club is one of the few volunteer lifesaving organizations in Japan where working people can be active. Furthermore, at Surf Village in Kanagawa Prefecture, SHONAN Coastal Park, they have access to some of the best facilities and equipment that the country has to offer!

The club has about 50 members in a wide range of ages from 24 to 63, and their occupations include civil servants, office workers, self-employed, and housewives. This makes it a versatile environment where you can broaden your horizons by exchanging information with members of various occupations!

Their main activities include training and patrolling the Kugenuma Coast area every weekend from April to September. Furthermore, they also perform surveillance and rescue activities every Sunday from October to March using the monitoring room and first aid room in Surf Village. In addition, they also plan and organize junior lifesaving programs for children, students, parents, and also conduct PR activities to promote awareness of lifesaving activities.

In 2021, with the Tokyo 2020 Olympic Sailing Competition, they worked together with related organizations for three years to ensure that the competition could be arranged without hindrance, including the actual preparations and security on the day of the event.

We had to deal with a lot of trash that washed up on the shore from the river, and how to handle many people of different cultures with different ways of thinking. But thanks to our efforts, the competition ended safely, and you really feel a sense of reward when people express gratitude for our work.

Volunteering as a lifesaver is a rare and valuable activity that allows you to maintain your physical fitness while contributing to society and expanding your world with new friends.
We are looking for new members, regardless of experience or occupation!
There is no upper age limit or qualifications required. Lifesavers do not need to have superpowers. All you need is a willingness to take on challenges. The club needs your help. If you are interested in lifesaving and are motivated, we welcome you with open arms!
SURF90 Fujisawa Lifesaving Club (NPO)
For detailed information: http://surf90fujisawa-lifesaving-club.com