Vol.39 ~"Every 1st Sunday is Oiso BEACH CLEANING Day"~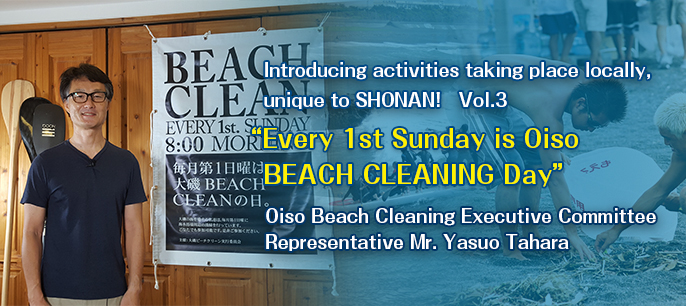 This time, we inquired, Mr. Yasuo Tahara, a professional SUP surfer who represents the Oiso Beach Cleaning Executive Committee, an organization that started "Oiso Beach Cleaning Day" to clean the Kitahama Shore every 1st Sunday.
What is SHONAN to you?
Mr. Tahara

I was born in Tokyo.
I moved to Ninomiya at the age of 5 and started surfing in my second year of junior high school. I would bike to Oiso to surf.
Later at the age of 26, I moved to Oiso.
Since I am from Ninomiya, I had very strong intentions of becoming a professional surfer locally in Oiso. However, there is this implicit understanding that if an individual does not attend Oiso Elementary School and/or Oiso Junior High School, they are not an Oiso local. Hence, I still feel like a visitor who moved from Ninomiya to this day who actively engages as a townsman in Oiso.
What was the "start" to your involvement in beach cleaning?
Mr. Tahara

I started beach cleaning from 1998.
At the time I was 34 years-old and had the desire of being involved in philanthropy. Coincidentally, there were many typhoons the same year.
In Oiso, there are two large rivers: Sagami and Hanamizu River. When water and garbage flow through the mouth of the river, a pile forms on the embankment of Oiso. And when the south wind blows, the garbage rises to Oiso Beach. Then, I spontaneously asked Hiratsuka's professional surfer, Mutsumi Honjo, saying "Let's clean the beach together". We gathered for a meeting and decided to start from the 1st Sunday of November.
Asking people to spread the news to friends, on the morning of the beach clean-up, roughly 100 people showed up. It brought me close to tears. In that moment, I knew that everyone had seen the sight. A mechanical excavator had dug a hole in the beach and dumped all kinds of garbage into it. It made me question if that was ethical.
Which is exactly why I called on others and given that individuals joined, I knew that everyone had the same feeling; this made me very happy.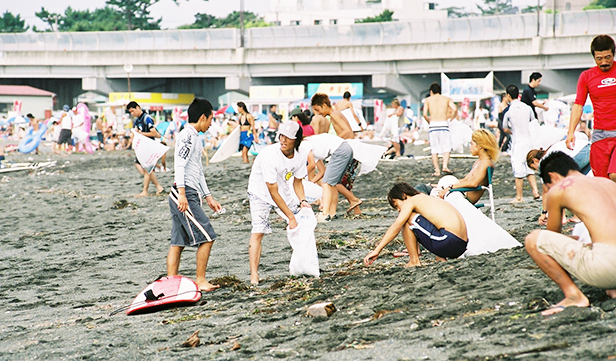 What is the surf competition you make with your friends like?
Mr. Tahara

Starting with the beach clean-up, a desire to do something more fun with the same group of people led to others saying, "I wish you could start a surf school". This resulted in me starting a surf school and more people have slowly started to participate. Then, with the cooperation of Oiso town's public relations, we were able to continue onwards publicly. There are about 20 kids participating in the surf school annually, and a surf contest is held in the summer. This contest inherits the "Oiso Surf Contest", a contest with a history of over 40 years that has been passed down from generation to and is now operated by those involved in the beach clean-up.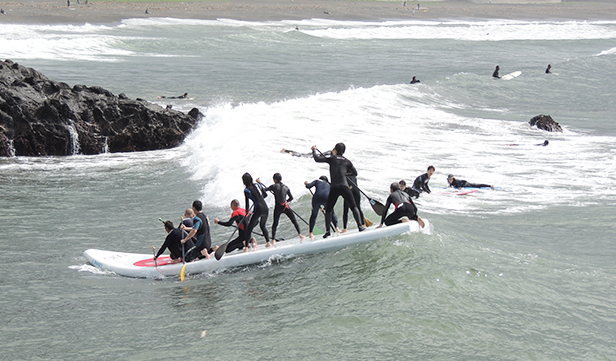 What is the future of beach cleaning?
Mr. Tahara

One day on my walk along the ocean, there was a family of three walking in front of me. They were holding garbage in their hands. When questioning them, "What happened?", they replied explaining that they had just walked from Oiso to Hanamizu, approximately 2 km in distance, to pick up garbage and decided to beach clean voluntarily. To bring home the garbage on your own and separate garbage at home is the true definition of beach cleaning.
To be able to do it voluntarily is something that requires a bit of courage. This is because one may begin to question whether picking up a piece of trash could be of any benefit. When actively engaging in cleaning with others, a lot of trash can be picked up all at once. This makes it easier to see the effects of cleaning firsthand and allows one to realize the greatness of making the beach clean. I hope that we can cultivate more individuals like the family at the beach that actively engaged in cleaning the beach with their own will; I would like to develop more individuals who have a loving attitude towards nature and the beach who feel the want to pick up and take home garbage, and/or individuals who consider the environment and do not throw away garbage.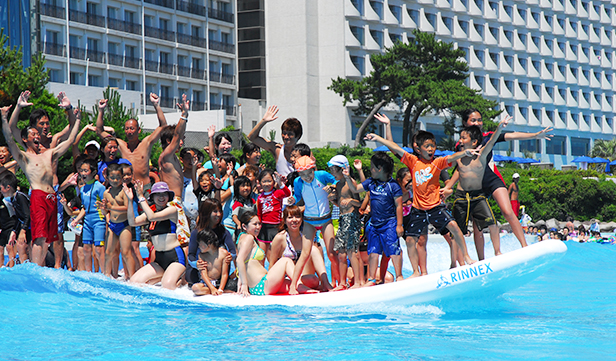 Please refer to the link below to access the official website of the "Osio Beach Cleaning Executive Committee"
https://ameblo.jp/oisosurfingkyokai/
Vol.3

~"Every 1st Sunday is Oiso BEACH CLEANING Day"~