Vol.37 ~Sending good vibes from SHONAN with some yoga!~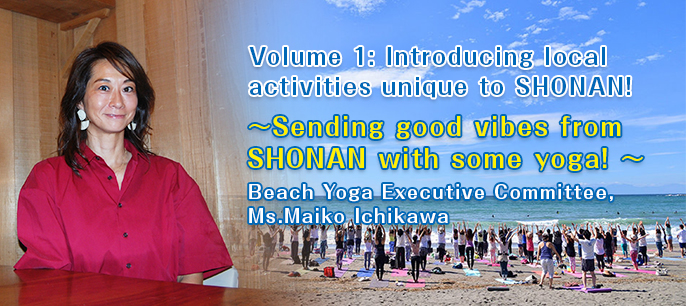 For the first time, we interviewed chairperson of "Beach Yoga Executive Committee", Maiko Ichikawa, who started the "SHONAN Beach Yoga" in 2015. It initially started under the "Feel SHONAN Project" in order to spread the word on Kanagawa's beach and its appeal to the world.
SHONAN, the stage of beach yoga. What is SHONAN to Ms. Ichikawa?
Ms. Ichikawa:

It has been seven years since living in SHONAN, and I truly believe that this is the best environment given the proximity to the ocean. I have an 8 year-old daughter and it is the best environment for raising children. With the nature, the ocean, and the mountains and the city close by, SHONAN area is full of culture and stimulation, it is easy to live in.
What were the reason(s) for Ms. Ichikawa's to start beach yoga?
Ms. Ichikawa:

I have a history of organizing a "Charity Surfing Competition" with a friend as a charity project. Based on this experience, I was asked to join a conference for "Feel SHONAN", a project that works on spreading the greatness of SHONAN's ocean.
My main occupation was apparel and I was creating yoga wear and that was where the conversation started on how it may be refreshing to do yoga on the beach at SHONAN. With nature taking its course, the very first yoga event was held for "SHONAN Beach Yoga Week" under the project "Feel SHONAN" in 2015.
As the chairperson of the executive committee, Ms. Ichikawa spreads the charms of SHONAN's ocean through beach yoga. What are your thoughts regarding the operations and members of the group?
Ms. Ichikawa:

I've felt the appeals of SHONAN's ocean firsthand in different places and the work I'm doing is very different from the one I've done prior, so I find it enjoyable to be able to spread it to others. I believe that only those who know SHONAN's ocean can spread the pleasantness of the ocean as well as the comfort of the beach.
The few people that popped into my head from the group are all friends who live in SHONAN. At first, I was worried about getting into a conflict with my friends while working, but this has given us an opportunity to bring up our honest opinions on things and now, I'm able to work alongside great members.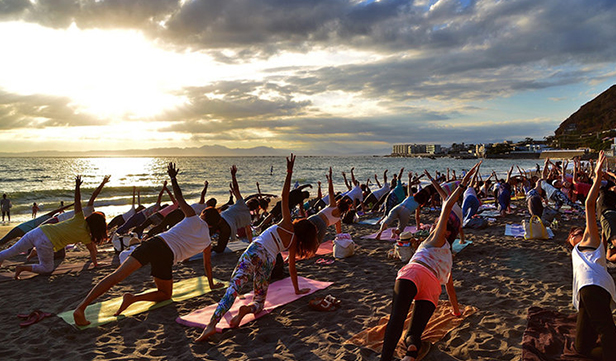 Regarding the widening circle of yoga.
Ms. Ichikawa:

In a big class there are about 150 individuals per class, which makes yoga more engaging. The "SHONAN Beach Yoga Week" in Hayama takes place over a course of 5 days with about 1,000 to 2,000 people participating and has been ongoing for 5 years. The yoga week takes place not only in Hayama but in various locations so I'm sure many have participated already.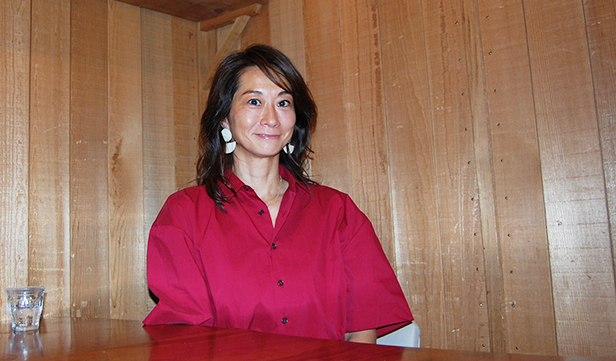 Ms. Ichikawa has spread beach yoga in a matter of 5 years.What are some thoughts you've treasured?
Ms. Ichikawa:

The number of events have increased in comparison to when we started 5 years ago and as we hold these yoga events, more and more people become connected and the community and/or circle widens, allowing for more friends that empathize on a range of things and I believe that that is the most valuable.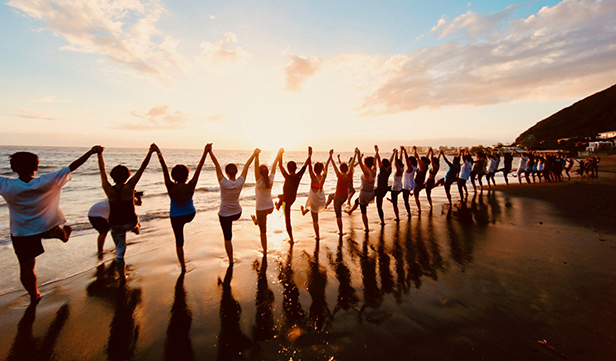 Ms. Ichikawa values the connections she's made with many; what are your plans going forward?
Ms. Ichikawa:

The great thing about yoga is that it can be done anywhere if you have a yoga mat, so I'm thinking of starting a class online.
To have people enjoy the air, and have individuals visit SHONAN firsthand is what is most ideal, however, I also understand that many are not able to visit, and I do want to share the experience to those living abroad and/or at a distance too so I am planning to implement such opportunities in the future.
The official website for "SHONAN BEACH YOGA", where Ms.Ichikawa serves as the chairperson of the executive committee is below: https://www.shonan-beach-yoga.com/

To read more about past experiences at the "SHONAN BEACH YOGA", click the link below:
https://www.feelshonan.jp/en/feature/feature20/
Vol.1

~Sending good vibes from SHONAN with some yoga!~